According to Daily News Hungary, Hungarian universities not only have cheaper tuition fees but also cheaper living than many other nations offering similar, quality education, which is especially important for students. Here are seven reasons why you should consider studying in Hungary.


1 Exciting start-up scene
For those looking to get in on the ground level of industry, Hungary is the home of an exciting start-up scene, making it an ideal location for business students and those with an entrepreneurial spirit. Over the past few years, Hungary has been home to a plethora of successful start-ups, some worth billions.
2 Affordable tuition fees
One of the biggest obstacles for students wishing to achieve a higher education is trying to figure out how to pay astronomical tuition fees. Therefore, you might find an education to be much more achievable financially in Hungary. Medical school in particular can leave students with massive amounts of student loans, but that isn't the case in Hungary.
A medical degree from a university in Hungary is recognized by the European Union and the United States, which brings many international students to study medicine in Hungary, meaning you can get an excellent education without breaking the bank. Medical students can anticipate spending about $16,500 annually for a six-year degree.
One of the most prestigious medical schools in the country is one of the ten faculties of the first Hungarian university, the University of Pécs. More than 3,500 students from over 80 countries study in the Hungarian, English and German programs at the Medical School and its co-faculty, the Faculty of Pharmacy. The English and German programs of Medical School are approaching a fine anniversary: in 2024, the former will celebrate its 40th and the latter its 20th birthday.
Besides the general medical and dental trainings, the Medical School also offers a master program in Biotechnology, PhD, and specialist training in 33 specialties. Its medical engineering program, started in September 2021, trains professionals with an interdisciplinary approach to solving technical problems at the medical-engineering interface and their application in clinical practice. The BSc in Biotechnology, launched in September 2022 at the Faculty of Pharmacy in Pécs, is unique in Hungary in that it is taught exclusively in English and offers globally sought-after knowledge, a variety of career paths and concrete industrial experience during studies. For those wishing to refresh their secondary school knowledge in biology, chemistry and physics, the faculty offers preparatory courses in English and German.
A major attraction of the medical school of South Transdanubia is that the diploma obtained there can be applied in many countries of the world, and with the accreditation according to the criteria of the World Federation for Medical Education (WFME) in 2022, the Pécs diploma will be naturalizable in the USA after 2024.
3 High-quality education
Attending a university in Hungary may be more affordable than some other countries, but that doesn't mean you're going to be sacrificing quality. Hungary complies with European standards and medical studies in Hungary are considered to be of the highest quality. This means the degree you earn studying abroad will be viable in the UK and on American soil. "Of course, the studies were not easy. But that's what you want from your doctor; to be tested against the highest standards. The education I received is easily on par with all healthcare systems I saw so far," Alan Abada M.D. said of his medical education in Hungary.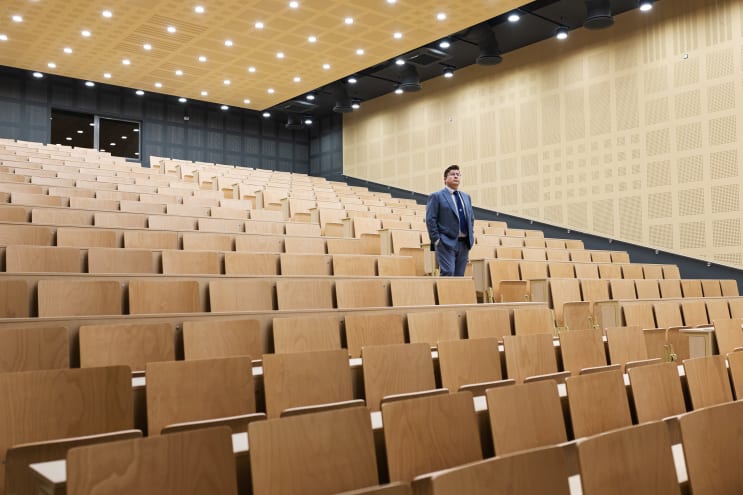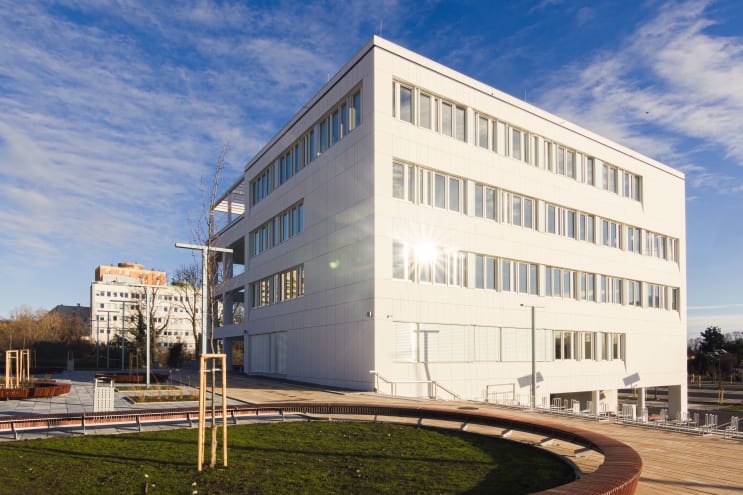 High-quality education, the transfer of marketable knowledge at the highest possible level, is particularly important for medical schools, where universities invest a lot of resources. In September 2021, the new ultramodern theoretical block at the University of Pécs, which is both a research and teaching wing, was inaugurated. The 12,000-square-metre complex features four large lecture theatres and 34 seminar rooms equipped with ICT-enhanced teaching facilities, as well as Core Facility spaces designed along the lines of the "lab within a lab" principle, meeting the highest standards of medical research.
The highly practice-oriented dental training is supported by an almost 3,000-square-metre building in Pécs, inaugurated in the summer of 2022. Around 1 billion forint ($2.737m) is being invested in the renewal of the Simulation Training Centre, which, with more than 1500 contact hours per semester, has now become a national leader in the practical training of doctors and healthcare professionals.
The Szentágothai Research Centre, also located in Pécs, the university town of South Transdanubia, is one of the most modern research centres in Central Europe, bringing together dozens of research groups and hundreds of experts in five main research clusters (neuroscience, molecular, building energy, immunology and physico-chemistry). The Virology National Laboratory of the University of Pécs, which has been operating since September 2020, is a BSL-4 level research laboratory, the most modern research unit in the Central European region, meeting all the laboratory technology, biosafety and safety requirements of the time. The National Laboratory of Human Reproduction, also in Pécs, aims to increase the number of successful infertility treatments by improving the efficiency of artificial insemination techniques.
4 Modern country
Students won't have to sacrifice modern comforts when they decide to study abroad in Hungary. The country has all the modern conveniences that students from other countries can expect, while still being safe, welcoming, and affordable. Also, Hungary is considered by the World Bank to be a high-income country.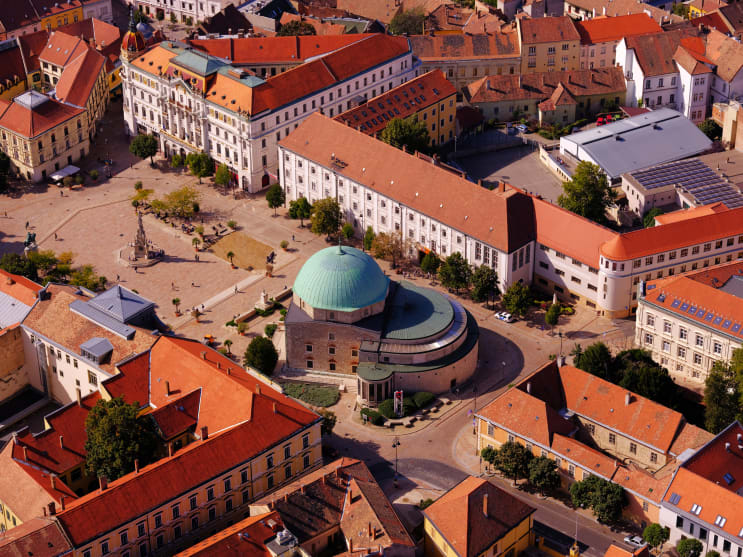 5 Safe
Safety is always a primary concern for students when thinking about studying abroad. Fortunately, Hungary is considered to be a safe country in which to study and reside. "On the list of the Global Peace Index, Hungary is the 15th safest among 163 countries". Celebrities who have filmed blockbuster movies in Budapest described the city as "walkable", "liveable" and a "totally safe city even at night". Additionally, the risk of natural disasters within the country is very low. Naturally smaller cities experience less crime, so Pécs is an even safer option.
6 Low cost of living
Another benefit to studying in Hungary is the low cost of living, which can be crucial for students trying to remain on a budget. The cost of living in Hungary is, according to Numbeo, 43% lower than in the United States and rent is over 70% lower than that in the US. Apartments even in the capital Budapest can be found for approximately €400, including utilities. Public transportation is easy to use, and also reasonably priced. Going out to eat, and entertainment are also affordable, making it easy to add into your monthly budget.
Budapest, with its size and population of around two million, has undeniable advantages in terms of entertainment, culture, gastronomy and leisure. But there is no doubt that liveability and accessibility is a feature of rural university towns: public transport does not take hours out of your life, and you can hop on your bike and be on campus, in the city centre. Since many of the foreign students at the Medical School in Pécs also cycle, there are plenty of new bike storage facilities on campus, but you can also easily walk to the medical school from the surrounding dormitories, which are within walking distance of the campus.
7 Diverse and multicultural
Immersing yourself in a new city, culture, and experience is one of the most important aspects of studying abroad. Hungary's student community is diverse and there are lots of fun experiences for foreign students. Students can see the stunning sights of cities such as Budapest, Pecs, and Szeged, and also step out into the rural countryside to explore lakes and the beautiful countryside. There are plenty of clubs, museums, bars, art venues, nightlife, and events, where you can meet new people.
Pécs, nestled at the foot of the Mecsek Mountains, offers a Mediterranean climate and atmosphere, a welcoming atmosphere and exciting gastronomy. The city was the European Capital of Culture in 2010, with the construction of one of Hungary's most beautiful concert halls with the best acoustics, the Kodály Centre, as well as the Zsolnay Cultural Quarter and the South Transdanubian Regional Library and Knowledge Centre, which also houses the university library and was the home of world-famous primatologist Jane Goodall. Just a bike ride away from this vibrant cultural town is one of the country's most developed wine regions, the Villány wine region, which attracts visitors all year round with its hillsides and mountain juice.
So if you want a world-class education at a very affordable cost, in a modern and safe country, then take a look at Hungary and the University of Pécs!