Peace and development studies aims to promote harmony between peoples and nations and foster prosperity, in a sustainable manner, so people all around the world can live happy, peaceful lives. To this end, peace and development studies students learn about and engage in the key debates in the overlapping areas of conflict resolution, peacebuilding, political communication, security, governance, history, and processes of economic and political development.
It is a fascinating, vital subject – and set to only increase in popularity and relevance due to the Ukraine war, which has demonstrated to many used to peace just how stable peace can be. "I've particularly noticed, from my perspective as a journalist writing about the war, just the sheer level of public interest in this as a topic," explains Josh Keating, a journalist specialising in global security, in a Global Grid interview. "I've written about quite a few international stories, conflicts, humanitarian crises. Obviously, the stakes of this one are extremely high, if not higher, than most of the others I've covered."
"But the level of media interest, the level of public interest has really lasted. It's been surprising and significant. There are still Ukrainian flags up all over my neighborhood, at least. And I think that this isn't just a media story. I think this is important for the course of the war itself. One thing that perhaps Russia didn't count on, one of Putin's many miscalculations in launching this war, was the sheer level of global public support Ukraine would receive, and the fact that it's a relatively easy decision for the Biden administration. It's interesting to me as a reporter, and almost heartening in a way, to see the interest the world has taken in this."
Students analyze violent and non-violent behavior to understand the first steps to establishing a successful path to peace and prosperity. Coming up with a definition for "peace", examining conflict resolution, employing de-escalation tactics, and determining solutions to create systems that enable lasting peace are some of the fundamental skills this academic field offers.
Graduates can transfer this knowledge into several different career options. They may become a diplomat, appointed by a nation to represent the state's interests in the international sphere. Juliana Weiss-Roessler writes in Work.Chron.com that the US ambassador's "job involves traveling abroad to strengthen relationships between the U.S. and foreign countries, making it an ideal career for someone with a background in peace studies. Many US ambassadors start their careers as foreign service workers and receive relatively low salaries, but those who work their way up to a senior diplomat position can expect to earn [six figures] per year [...] A job in foreign services leads to many opportunities for promotion and yearly salary increases."
Those wanting to work at the heart of the action can move into being a consultant in conflict resolution, mediating between two parties to bring about a workable solution - and, ultimately, peace. Conflict resolution specialists include mediators, arbitrators, and conciliators.
Other jobs in the field include human resources (a bit of a sideways move but skills such as mediation are very useful in HR), legal advocate, policy officer, trauma specialist, professor/research, journalist, or photographer.
Amanda Moore studies on the Peace and Development bachelor's programme at Linnaeus University in Sweden. "I want to serve other people in my work," she says. "And I think that doing so is especially important in the post-conflict stage when peace is fragile and there is much rebuilding to be done."
"In the first year alone we covered topics including development, governance, conflict analysis, gender, global political economy, sustainable development, and more. The assignments have also allowed for flexibility and opportunities to be creative - we usually get to choose what regions or topics we focus on within the assignment guidelines, as well as how we will approach the assignment."
"The language of tuition is English, which I thought would make the student composition more diverse and international. Additionally, there is space to spend some time studying abroad or doing an internship - this component is especially interesting to me. This degree also offers opportunities to work in Sweden or anywhere around the world."
"I am stuck between continuing my education in a master's programme or working in Africa or the Middle East. I want to stay open-minded to any opportunities that might turn up at the time. My core interests are in migration, crisis ans disaster management, conflict studies, and social justice."
Lovisa van Deetjen, a graduate of the programme at Linnaeus University, got an internship in Kenya after graduating and now works for a local partner for the NGO PMU Interlife. Lovisa is also applying to different master's, to study humanitarian relief, peacebuilding, or human rights.
"I became interested in the Peace and Development Programme due to its wide focus within this area of studies and the emphasised understanding of the connection between peace and development issues," she explains. "The opportunity to study a programme taught in English with students and teachers from different parts of the world has lead to interesting linguistic and cultural exchanges. This has in turn increased my interest in the field and aspiration to work in an international context."
"If you have an interest in issues related to the most vulnerable people on the planet and want to understand the connections and interrelation of poverty, conflict, climate change, inequality, economics, and politics, then I recommend that you study the Peace and Development Programme. It gives a broad and fundamental understanding of how these issues relate to each other, theoretically and practically, and examines and challenges the historical and contemporary debates, dilemmas, and approaches in the field. The programme has really given me in-depth knowledge and a fundamental understanding of the interrelation and complexity of these issues. It improved my ability to multitask, structure long-term plans, and utilise my time wisely."
"During my internship I get to be a part of the work the organisation is conducting and learn more about development, peacebuilding, resilience, and humanitarian relief from a local perspective. It is a great way to get more practical and hands-on experience in the field before attending a master and proceeding with a career in the sector."
Fellow graduate Safi now lives and works in Brussels, Belgium, the political hub of Europe (if not the world), working with education and lobbying. "On the programme, we had assignments for which we had to enter society, interview organisations, and support organisations in their communication work. We also spent one month in India during our specialisation in peace and development studies," Safi explains.
"I work for the European network Eurodesk that gathers organisations that work with informing young people about what possibilities they have to discover the world through studies, voluntary work, internships, and work abroad. The most exciting thing is we work internationally and with a field that is positive and always relevant. We work with different social groups and focus on inclusion of those who, for different reasons, cannot take part in international exchanges as easily".
"My work involves giving lectures on communication measures for active professionals. It is fantastic to see the impact we make on their communication work and the response they get from their target groups. We make a difference concerning how young people and organisations have access to programmes like Erasmus+ and European Solidarity Corps."
"During the last few years, we have worked to make young people become engaged digitally, to create online spaces for exploring Europe, to train them while also preparing them for how they can get the opportunity to go abroad and discover the world, what programmes and scholarships are available when Europe opens up again."
Linnaeus University's Peace and Development programme faculty have extensive experience working and doing research in nations facing development and conflict challenges - expertise they bring directly into the classroom to help students tackle the challenges of our world. There are various activities to prepare students for careers in the field, such as seminars with experts in the field, exercises, skills training, and internships (like Lovisa did). Also, it is one of the few bachelor's degrees to combine the (inherently connected) fields of peace and development.
The success of all this real-world expertise is illustrated in the strength of programme's alumni network. Programme graduates work in roles including demining in Afghanistan, working with art projects related to peacebuilding in Somalia, advocates for human rights in Sweden, conflict mediators in Brussels, and UN anti-terrorism experts in Kenya.
There are also many research and study abroad opportunities. Linnaeus University has a strong tradition of international exchange, with exchange agreements with hundreds of universities that allow Linnaeus students to study there without extra costs. Furthermore, the Peace and Development programme has two particular programmes for teacher and student exchange: Javeriana University in Bogotá and the University of Dar es Salaam in Tanzania. Both offer government scholarships to our outgoing students.
So if you want to be a part of building a better world, apply to study peace and development now!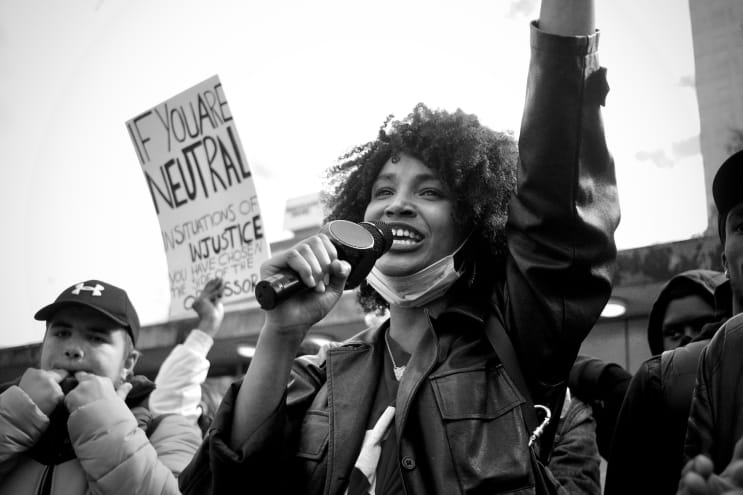 Article written in association with Linnaeus University.